"Comfort from People You Trust"
At Earl Russell Heating and Cooling Inc., we're proud of our decades of service to the Zionsville area, and we look forward to helping you with your air conditioning and heating needs.
Our Story
Earl Russell Heating and Cooling Inc. has been family owned and operated for 4 generations. Currently owned by Dave and Jeff Russell, ERHC's mission is to provide HVAC Solutions to Zionsville and surrounding areas with an uncompromising commitment to quality of workmanship. Our Core Values are Honesty, Integrity, Efficiency & Conscientiousness. Because of these values, we have developed a stellar reputation in our market. Our customers trust us because our focus is on keeping them as lifelong customers, not on the immediate sale of new equipment.
Core Values
Honesty- We tell the truth whether it's pleasant or not. This means that we do not mislead our
customers in any way. Our employees are expected to be 100% honest with us and our customers.
Integrity- We do what we say we are going to do.
Efficiency- We take our time on doing installations the right way while eliminating wasted time. Our technicians are trained to utilize their time wisely so that our customers are not left without heating or cooling for any longer than is necessary.
Conscientiousness- We consider all the variables. This is supported by 4 generations of field experience. We will not commit to a project until we are certain that its outcome will be a job well-done, and a satisfied customer.
Since 1915, ERHC has boasted a rich history that is engrained into the fabric of the Zionsville community.
ERHC History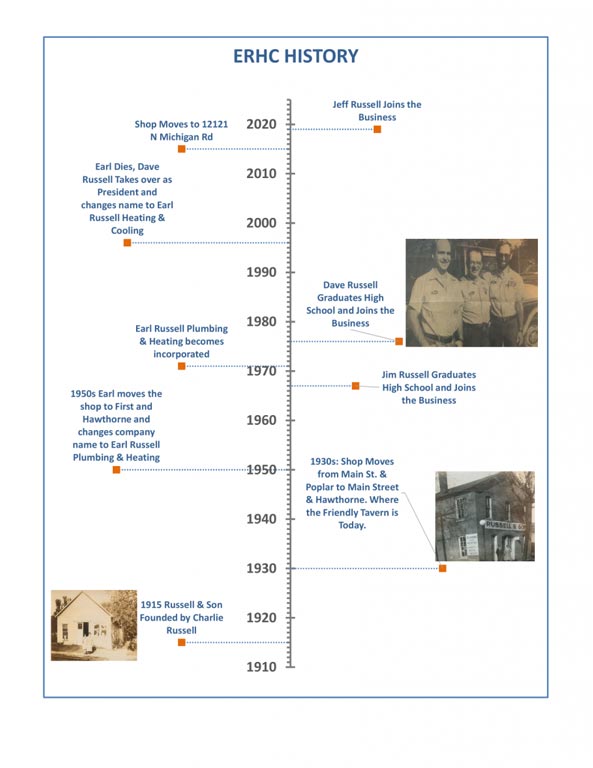 Meet The Team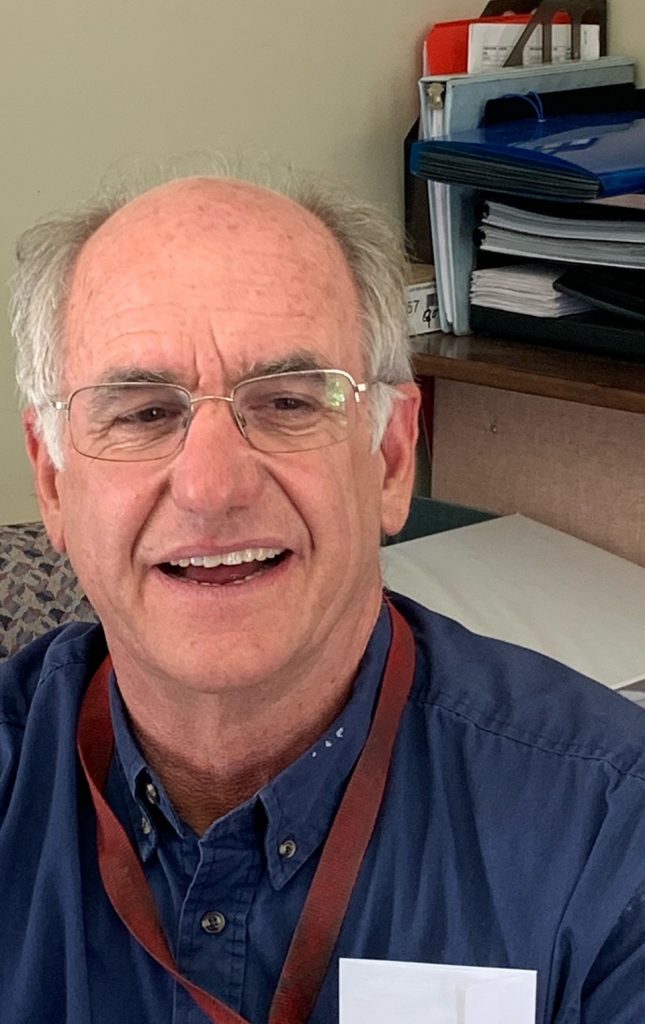 Dave Russell – President
Dave has been President of ERHC since 1996. Being a lifelong resident of Zionsville with 45 years of experience in HVAC, Dave specializes in quality assurance, technical training, and technical assistance. Dave is Nate and EPA Certified and holds a Marion County Contractors license. He has spent years developing trust with his customers by creating and upholding the ERHC core values.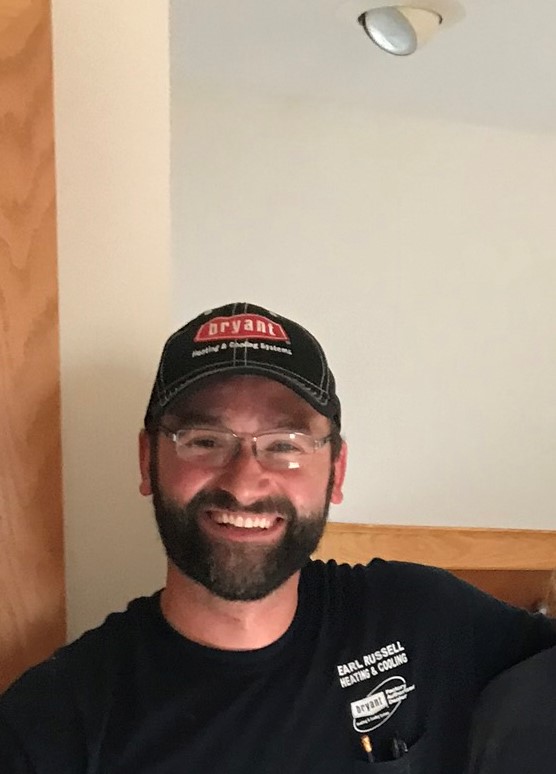 Jeff Russell – Vice President
Jeff has been Vice President of ERHC since 2019. Jeff initially followed a career in HVAC management in Kentucky where he learned from some of the best business owners in the industry. He has since returned to Zionsville with the intention of utilizing his knowledge to grow the business to be the most premier HVAC service company in Zionsville, Carmel, Fishers, and Westfield. Jeff Specializes in operations management and installations.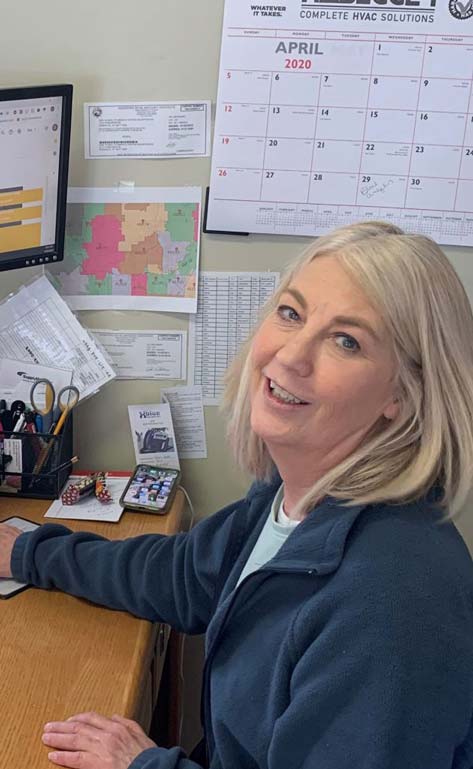 Robyn Meyer – Office Manager
Robyn has been office manager for ERCH since 2015. As the unshakable rock on the ERHC family, Robyn epitomizes the core value of conscientiousness. Robyn is a lifelong resident of Zionsville.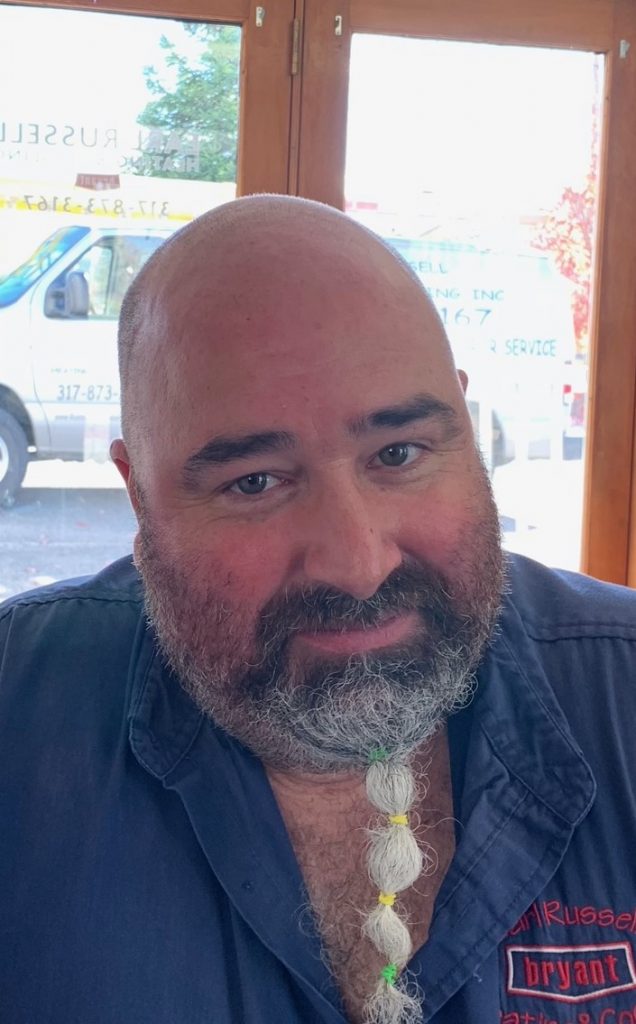 Mark Stum – Service Technician
Mark has been a service technician for ERHC since 2011. Mark is Nate and EPA certified. With his patient and informative approach to customers, Mark is a community favorite.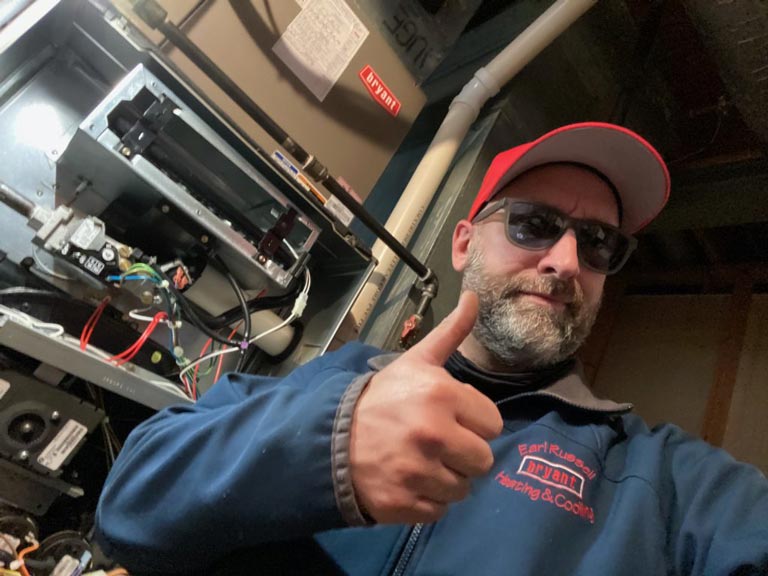 Ryan Hess – Maintenance Technician
Ryan has been a maintenance technician for ERHC since 2018. Before starting, Ryan knew very little about the HVAC industry and has shown an amazing capacity to learn and improve. Ryan is EPA certified and working on his Nate Certification. Always having a smile on his face, Ryan is the glue that helps the ERHC office culture remain happy and carefree.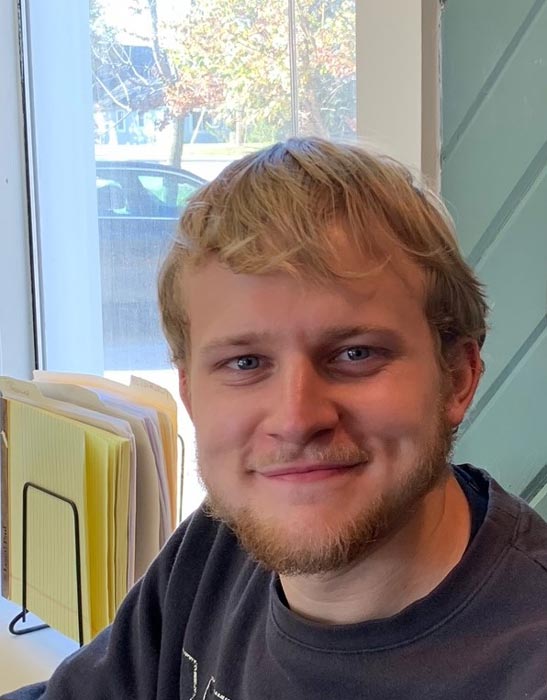 Bo Toombs – Apprentice
Bo has been an apprentice with ERHC since 2020. His work ethic and positive attitude has made him an instant hit with the family. Bo wants to go to school part time and get his degree in HVAC. Bo wants to use his training and education to become a service technician.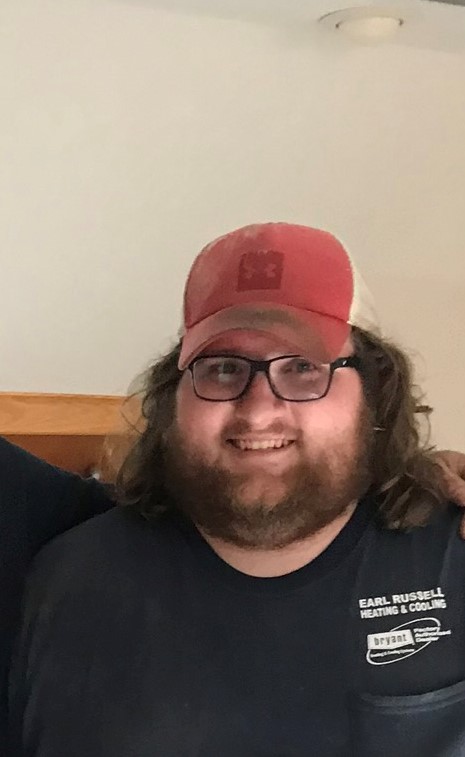 Seth Dickey – Install Helper
Seth has been with ERHC since. He has grown up in the industry and continues to help in the summer while he goes to Hanover college. Seth is very hard working and down-to-earth. He plans to be a school teacher when he graduates from Hanover.
Contact Us for a Free Consultation
Earl Russell Heating and Cooling Inc. offers a free in-home or office consultation to assess your HVAC needs, discuss your ideas and propose an estimate for our professional cooling and heating services. Call us today at (317) 873-3167 or fill out our online contact form to get started!